On Friday and Saturday, July 31-August 1, the Holy Land Christian Ecumenical Foundation (HCEF) held its 4th International Palestinian Diaspora Banquet and Conference in the Convention Palace in Bethlehem. Hundreds of youth and leaders in cities throughout Palestine gathered alongside 40 Know Thy Heritage (KTH) Palestinian delegates who hail from 10 different countries in the diaspora in order to discuss everything from human rights violations, the role of Palestinian women in capacity building, the Palestinian economy, the diaspora youth's role in nation-building, and so much more.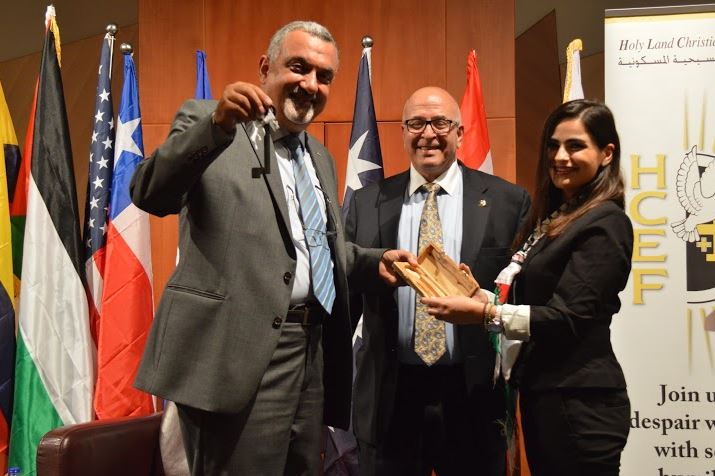 The opening ceremony of banquet and conference gave delegates the opportunity to meet with local and international leaders and their peers, and to have the privilege of hearing their fellow delegates speak along with a speech by H.E. Ziad Bandak, Advisor to the President for Christian Relations.
No table guests in attendance included H.E. Jibreen Al Bakri, Governor of Bethlehem; Claudette Habash, HCEF Advisory Board Member; Dr. Hanna Hanania, HCEF Board of Directors Member; Mr. Ghazi Hanania; Mr. Maher Hamdan, Team Leader at Palestinian Market Development Programme (PMDP); Mr. Salim Hodali, General Manager Bank of Palestine – Bethlehem Branch; Mr. George Bassous, CCC Bethlehem Representative, Ms. Diana Elias, Deputy of the Arab Women's Union (AWU) Bethlehem; AWU Members, Sheikh Maher Assaf; Sheikh Mohammad Saed Salah, Mufti of the Palestinian Security Forces; Sheikh Abdel Majid Atta, Mufti Bethlehem; Mr. Victor Hasbun, CEO of HMC; Eng. Ahmad Hifnawi, Representative of the Palestinian Development Foundation; Mr. Ahmad Abu Haddid, Representative of the Intelligent Services; Colonel Tariq Hajj, Police Deputy; Saleh Sobeh, Director of the Bethlehem Governor Office; and Mohammed Al Laham, Member of the Legislative Council.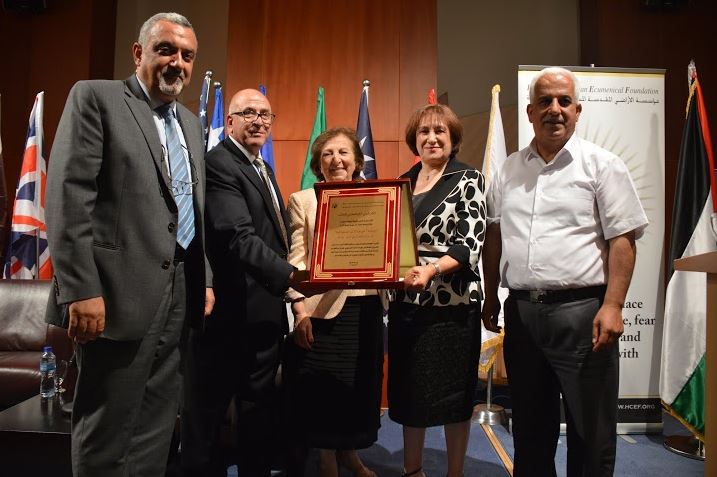 Also, during banquet HCEF Launched a new award called "Upon This Land," named after a Mahmoud Darwish poem that will be given annually to honor an individual or organization that contributes significantly to the preservation of Palestinian heritage and culture. This year it was awarded to the Arab Women's Union for its constant effort to create jobs for Palestinian women through culture and heritage projects, most notably and recently the Bethlehem Museum, which was completed in partnership with HCEF at the beginning of 2015.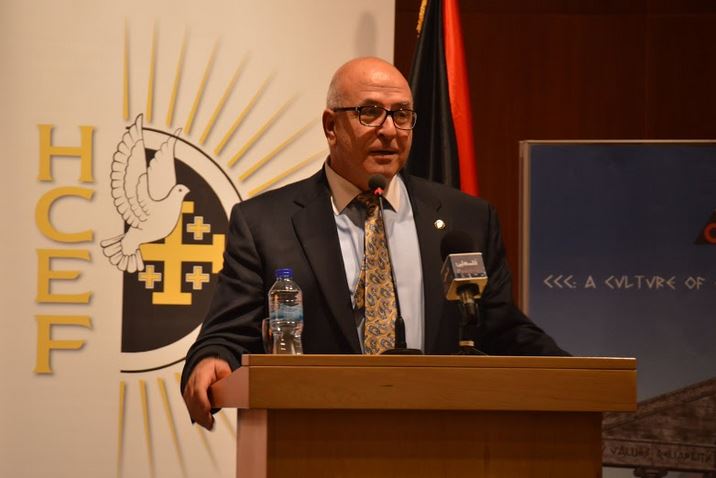 The conference began Saturday morning with welcoming remarks by HCEF President & CEO Sir Rateb Rabie, KCHS, who said, "It is beautiful to see Palestinians — both from the diaspora and the homeland — coming together to bridge their past with their common future, and to be part of the nation-building which will empower all of us to manifest a thriving Palestinian State."
The first panel to kick off the discussion, entitled "Human Rights Violations: Legal and Ethical Perspectives," featured Shadia Sbait, Iqrit Community Association Coordinator; Aseil Abu-Baker, Al-Haq Legal Research and Advocacy Officer; and Marya Farah, Legal Research and Advocacy Officer, all of whom detailed the human rights violations and exploitation in the Occupied Palestinian Territories.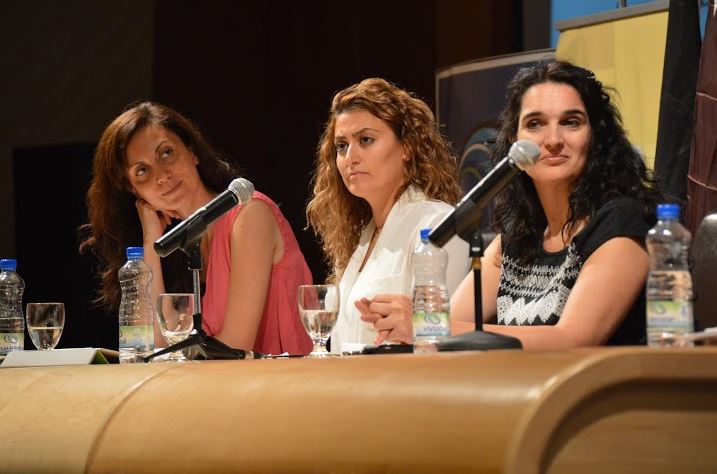 Both representatives from Al-Haq, Palestine's oldest human rights organization, detailed the various ways in which Israeli companies have exploited the occupation for profit and at the expense of human rights. According to Farah, the lack of international accountability only perpetuates such actions.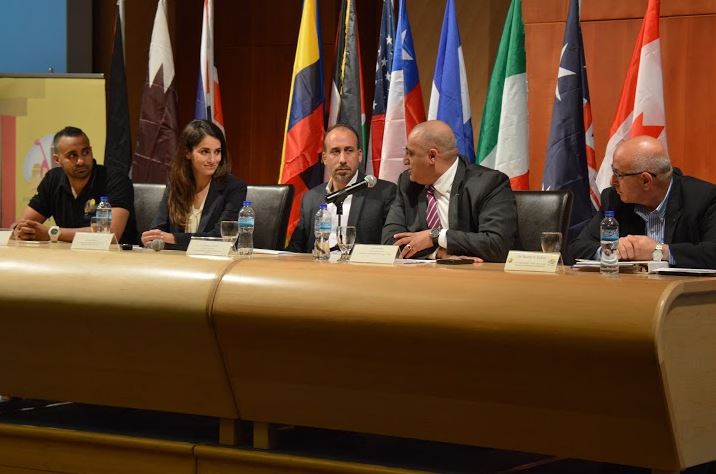 ¨International institutions are only relevant so long as state actors are held accountable for their actions," Farah said. "This is our challenge with Israel.¨ The second panel, which focused on the newest component of the KTH delegation called the Future Business Leaders (FBL) program, highlighted the role that the diaspora can play in building the Palestinian economy. The panel included Raya Sbitany, Head of Business Development for the Bank of Palestine; Mohammad Nuseibeh, Deputy Team Leader for the Palestinian Market Development Programme (PMDP); Haythan Wahidi, CEO of Palestinian Investment Promotion Agency (PIPA); and Fareed Zakaria*, a KTH delegate from Australia whose family is originally from Nablus. All of the panelists highlighted the integral role that Palestinians in the diaspora can play as ambassadors for Palestine abroad.
¨There are 7.5 million Palestinians in the diaspora," Bank of Palestine representative Raya Sbitany said. "By meeting successful Palestinians abroad and linking them, we can do so much.
¨ Zakaria highlighted how the economic relationship between Palestine and the diaspora is changing.
¨We [Palestinians] in the diaspora want to move beyond charitable organizations," Zakaria said. "We are trying to support the Palestinian cause by creating tangible connections —- through investments, job creation and sustainable partnerships. We are an international people, so we need to think as an international economy.¨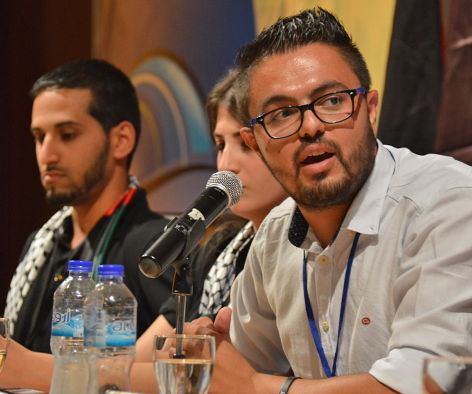 The third panel, entitled "Nation-Building Role of Palestinian Youth Around the World," focused on the importance of establishing and fostering social connections between Palestinians here and abroad, as well as the importance of advocating for peace, justice, and coexistence. The panelists included Jose Frech, a KTH delegate from Nicaragua whose family is originally from Bethlehem; Odette Yidi, a KTH delegate from Columbia whose family is originally from Bethlehem; Mohammed Ghumrawi, a KTH delegate from the United States whose family is originally from Ramallah; and Ahmed Diriah, a youth activist from Beit Fajjar.
Yidi discussed the identity crisis faced by Palestinians in the diaspora and the importance of remembering ones´ roots.
¨Maybe we´ve never tasted Jaffa oranges before, but we know how sweet they are,¨ she said.
Diriah also emphasized the role youth in Palestine have played in forming Palestine´s future.
"There was a great revolution around Palestine on social media," he said. "Social media can exert pressure on policy and decision-makers regarding peace negotiations. Twenty-three years of negotiations have been useless, but youth in Palestine on social media have made a difference. Issues of water usage, military aggression, and food scarcity have been elevated by the youth voice."
The fourth and final panel, entitled "The Role of Palestinian Women in Capacity Building," featured four women panelists from a variety of organizations and institutions to discuss the role of women in Palestinian society and the ways in which they can be further empowered by men and women alike. The panelists included Amal Masri, Ougarit Group CEO and Middle East Business News and Magazine Editor-in-Chief; Rula Shoki, a lecturer at Bethlehem University; Noor Shayeb, a KTH delegate from the United States whose family is originally from Jenin; and Amber Amleh, the COO of Ibtikar Fund L.P.
To Masri, the answer to elevating the role of women in Palestinian society lies in entrepreneurship.
¨One way to empower women is to become social entrepreneurs, and to have a bigger heart to give back to others,¨ Masri said.
Shayeb emphasized the importance of solidarity between Palestinian women — both within Palestine and abroad.
¨This delegation is approximately 70 percent women, which is very significant because we want to empower and lead the future of women in Palestine with you," she said. "We want to work together and bring your stories to the forefront.¨
At the conclusion of the conference, and in honor of the KTH delegates and speakers who made it possible, each of them were presented with a symbolic Key of Return, gifted in olive wood boxes engraved with their names.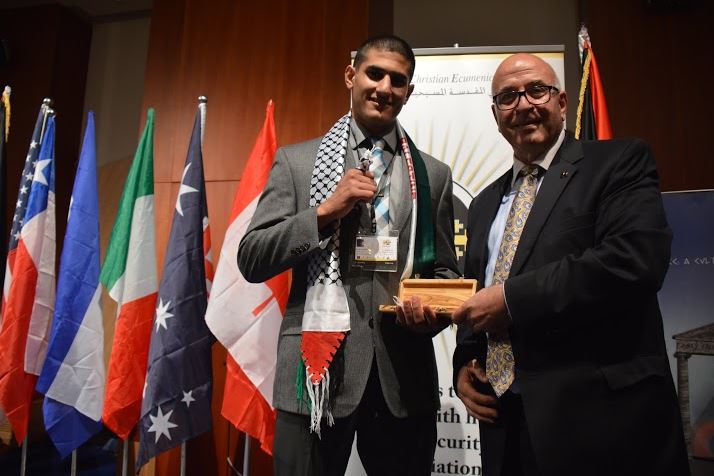 In all, the conference had intellectually and emotionally challenging topics that helped to produce ideas among participants for manifesting a free and prosperous Palestine.
To learn more about the KTH 2015 delegation's journey throughout Palestine, follow them on Facebook, Twitter, Instagram, and online at kthps.org
*Name has been changed.