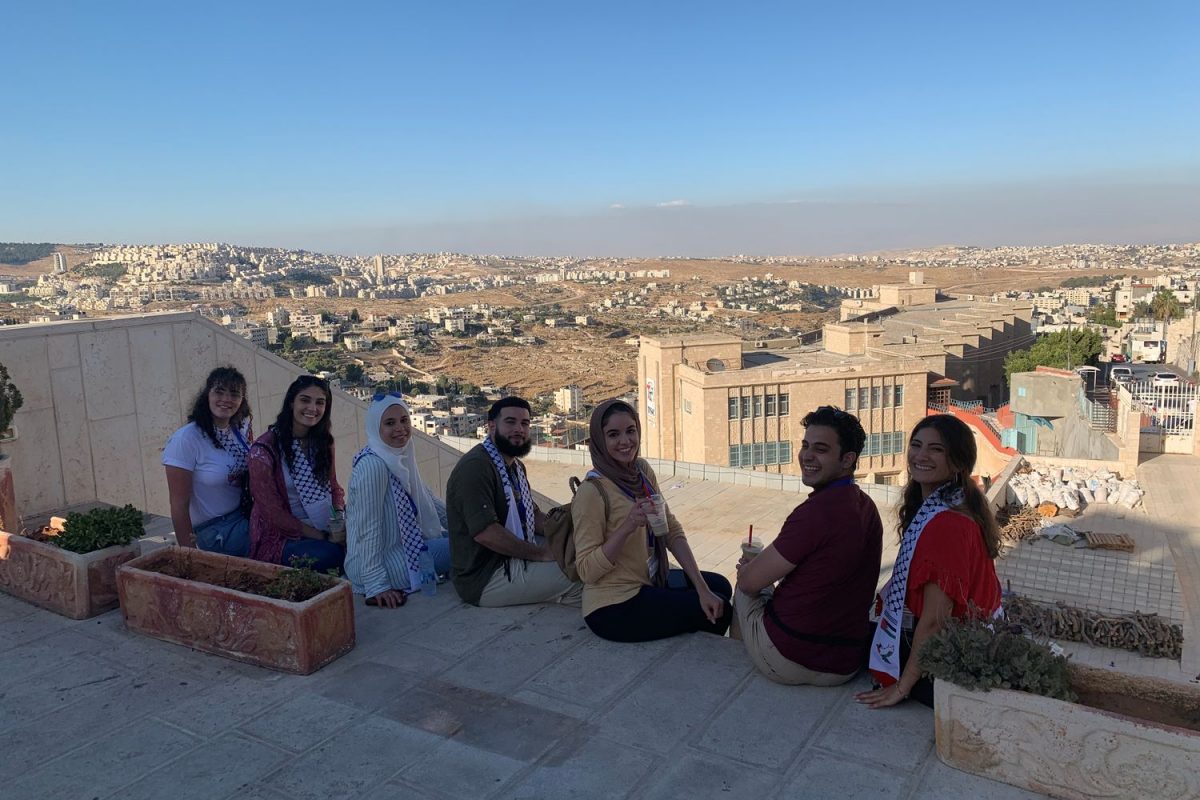 By Bernardita Y.
Our day in Bethlehem began with an instructive workshop at the Applied Research Institute, Jerusalem (ARIJ), where we learned about their 4 programs: sustainable agriculture, natural resource management program, urbanization monitoring department, and the good governance program. We learned of innovative, important projects ARIJ works on like developing creative strategies for water conservation to continue to build a sustainable Palestine. ARIJ also shared shocking understandings of how Israel redistricts and gerrymanders Palestinian land, performing an ethnic displacement of our Palestinian brothers and sisters.
We followed this workshop with a tour of the beautiful city of Bethlehem, including Camp Aida, the occupation wall, and the Crimson Valley with the Society of St. Yves. These visits were hard thought important to witness, and provided real life, visual examples of what we had learned about earlier in the day. We felt the anger and frustration as we walked along the large wall that divides the city and the space that creates a refugee camp of our own Palestinian peoples. While the views from Crimson Valley were breathtaking, our awe was broken by rage as we learned of the settlements in the distance, the wall drawing cuts in our people's land, dividing them from our resources, our capital of Jerusalem, our families.
In our conversations with the chancellor of the Bethlehem University and a current student, it was powerful to see the impact that a university like that has, and how Palestinian students that live in Jerusalem deal with commuting through checkpoints to get to school. Every day in our journey through Palestine, the insidious and painful impacts of the Israeli occupation on every aspect of the Palestinian people's daily life.
Our trip to Bethlehem ended with a visit to the Church of the Nativity. It was a beautiful visit where we got to learn about this church that has been standing through hundreds and hundreds of years, that marks the place where Jesus was born, and that houses Christians of various denominations—like Greek Orthodox and Roman Catholic. It was moving to walk the streets around the church and think of our relatives that may have walked these streets many years ago.
We were excited to end a day of immersion in Bethlehem, filled with the pain of the occupation, with views of the city, Ice Cream (buzza), iced coffee, and a buying religious gifts from this holy city to take back home to our families.