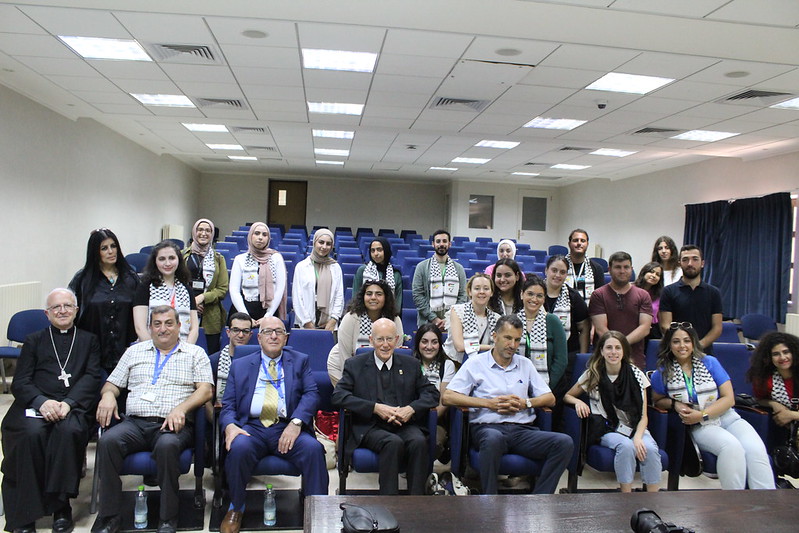 Bethlehem University was honored to welcome two distinguished delegations in recent weeks as part of its ongoing commitment to fostering international collaboration. The visits were organized by the Holy Land Christian Ecumenical Foundation (HCEF) and centered around a workshop that aimed to explore the theme of Muslim-Christian coexistence.
The first delegation, consisting of 13 students and their professor, Dr. Mohamed Ghumrawi, from Florida International University (FIU) Study Abroad, arrived at Bethlehem University on 15 July 2023. The students, led by group coordinator Ghada Habesch, were given a comprehensive tour of the university campus. During their visit, they had the privilege of meeting with Brother Peter Bray, the Vice Chancellor of Bethlehem University, and engaging with Student Ambassadors, providing them with a firsthand glimpse into the academic and cultural life at the University.
On 2 August 2023, a second delegation, this time from Know Thy Heritage (KTH), also embarked on a visit to Bethlehem University. The KTH delegation, comprised of 20 students and young professionals, was accompanied by Sir Rateb Rabie, the CEO of HCEF. Like the FIU delegation, the KTH members went on a campus tour, had the opportunity to interact with Student Ambassadors, and engaged in discussions with Brother Peter, the Vice Chancellor.
A highlight of both delegations' visits was their participation in a workshop held at Bethlehem University. The workshop, titled "Palestinians as a Model of Muslim-Christian Coexistence," underscored the profound impact that faith has on various aspects of human existence. The workshop was led by H.E. Bishop William Shomali and Imam Maher Assaf, who shared insights and reflections on the harmonious coexistence of Muslim and Christian communities in Palestine.
Bethlehem University extends its heartfelt gratitude to both delegations for dedicating their valuable time to visit our campus and for actively participating in our mission to shape a brighter future in the Holy Land.
By Bethlehem University