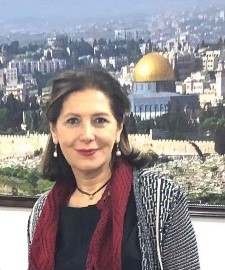 Jihan El-Husseini is the founder and editor in chief of Hayat Washington, a US corporation based in Washington D.C. The vision of Hayat Washington is to be an independent media organization that provide neutral true content in Arabic, specializing in Middle Eastern affairs with a special focus on Palestinian matters.
Jihan's interest in Palestinian affairs has its roots in childhood and upbringing when she volunteered in the Palestinian Red Crescent Society. It increased in 1978 as she started to attend Palestinian national council meetings as an observing member. Such interest was inspired by both her parents – Her late mother Nahida El-Taji ElFarouqi was a leader of charitable movements, and was one the Palestinian Red Crescent's founding members. Jihan's father, Farouk Fahmi El-Husseini, was a member in the Palestinian Liberation Organization's (PLO) first executive committee. Additionally Farouk was the director spearheading the PLO's presence in both Cairo, Egypt and the Arab League in 1964.
Jihan's career as a journalist began in Al-Watan Al-Araby newspaper in 1991. Her work centered on the Egyptian presidency and ministry of foreign affairs. In 1994, she joined Al-Hayat International newspaper as a political editor. Six years later, she moved to Al-Sharq Al-Awsat newspaper to specialize in Egypt's foreign policy and in Arab affairs as related to Iraq, Palestine, Syria, Jordan, Lebanon, and Yemen. The year 1994 was of particular significance for Jihan – as a result of the multitude of high-profile interviews she conducted, Jihan was honored with the best journalistic dialogue award from the Ali and Hisham Hafez Foundation for Journalism. In 2005, she returned to Al-Hayat International as a political editor, covering the activities of the Presidency of the Arab Republic of Egypt at the international level as well as the Palestinian file at the Cairo office. In 2014, she became the Washington correspondent for Al-Hayat International.
In 2018, Jihan embarked on a new journey by starting her own US-based online news website, Darhaya. Its primary mission is to educate and enlighten the Arab people on all things America, including its political, cultural, and think-tank scenes through real-time, objective, independent, and professional reporting and opinion. In 2022, Jihan decided to evolve her news website into Hayat Washignton to be a more broad-based media organization that covers news, training, consultation, and studies.
Jihan has conducted interviews with Kings, Presidents, heads of government, and eminent personalities, and covered international and regional events. She was accredited in the Egyptian presidential media for 17 years, with specialization in the Palestinian cause. She covered major international conferences in Europe, America, and Africa, including the Peacemakers Summit, Sharm El-Sheikh on March 13, 1996; the second Franco-African Summit on February 21, 2003; the first summit conference between Arab countries and Latin American countries in the Brazilian capital Brasilia in 2005; and the summits of non-aligned countries. She also covered all Arab League summits from 1995 to 2010, and the war in Iraq.
Jihan visited the West Bank and the Gaza Strip several times by virtue of her work, as well as on a personal level. She covered the Palestinian Authority's entry into the Palestinian territories with Yasser Arafat. Jihan sees that the arena accommodates everyone, and that the Palestinian cause is a just humanitarian issue that requires everyone to exert efforts and energies in various fields and from different orientations, ages, and colors. Countries, especially the US, have the responsibility to provide real solutions.
Jihan has a vision along with her 30+ years of experience to use Hayat Washington not only to shed light on the suffering of the Palestinian people- especially the illegal violations committed against them. Additionally Jihan intends to spotlight the Palestinian youth who refused to surrender to the challenges presented by The Occupation and became accomplished in various fields because of their determination. Such exemplary youth must be supported because they are role-models for youth around the world.
Jihan received her BA in political science from the University of Jordan in 1983. Jihan has travelled to more than 30 countries. She is married and has two sons and one grandson.