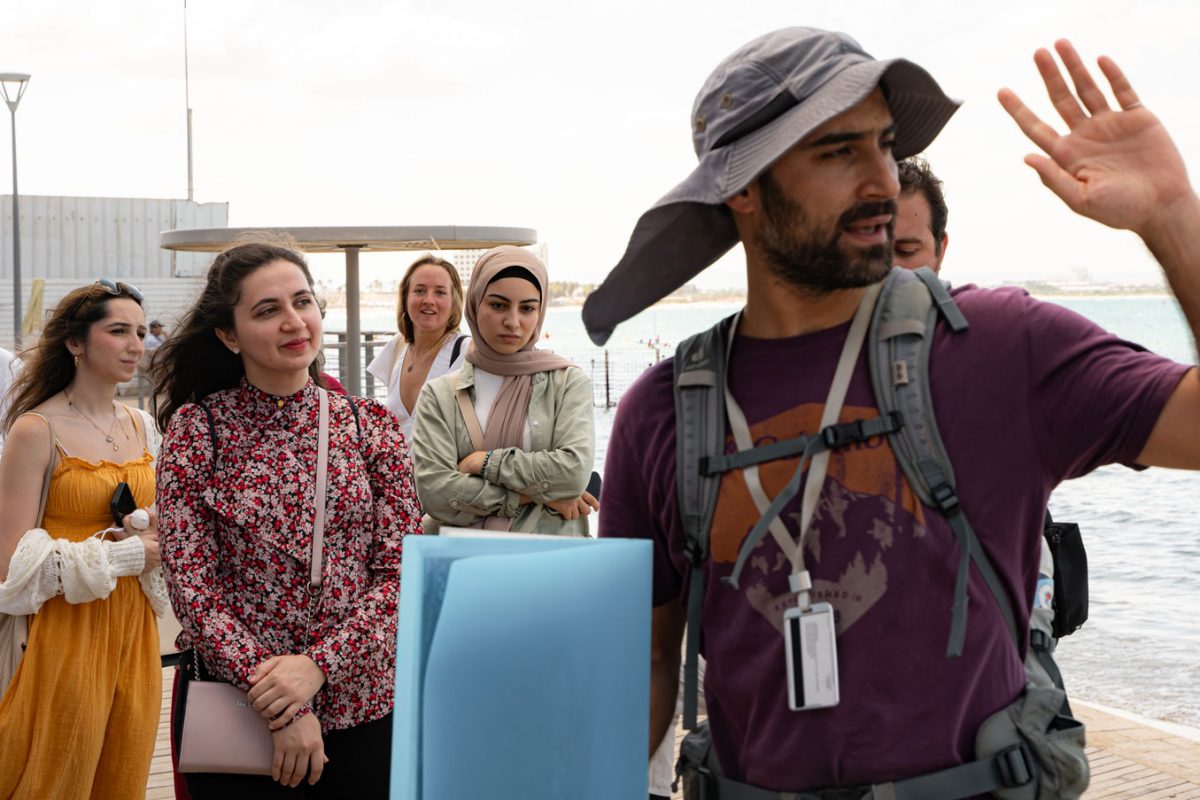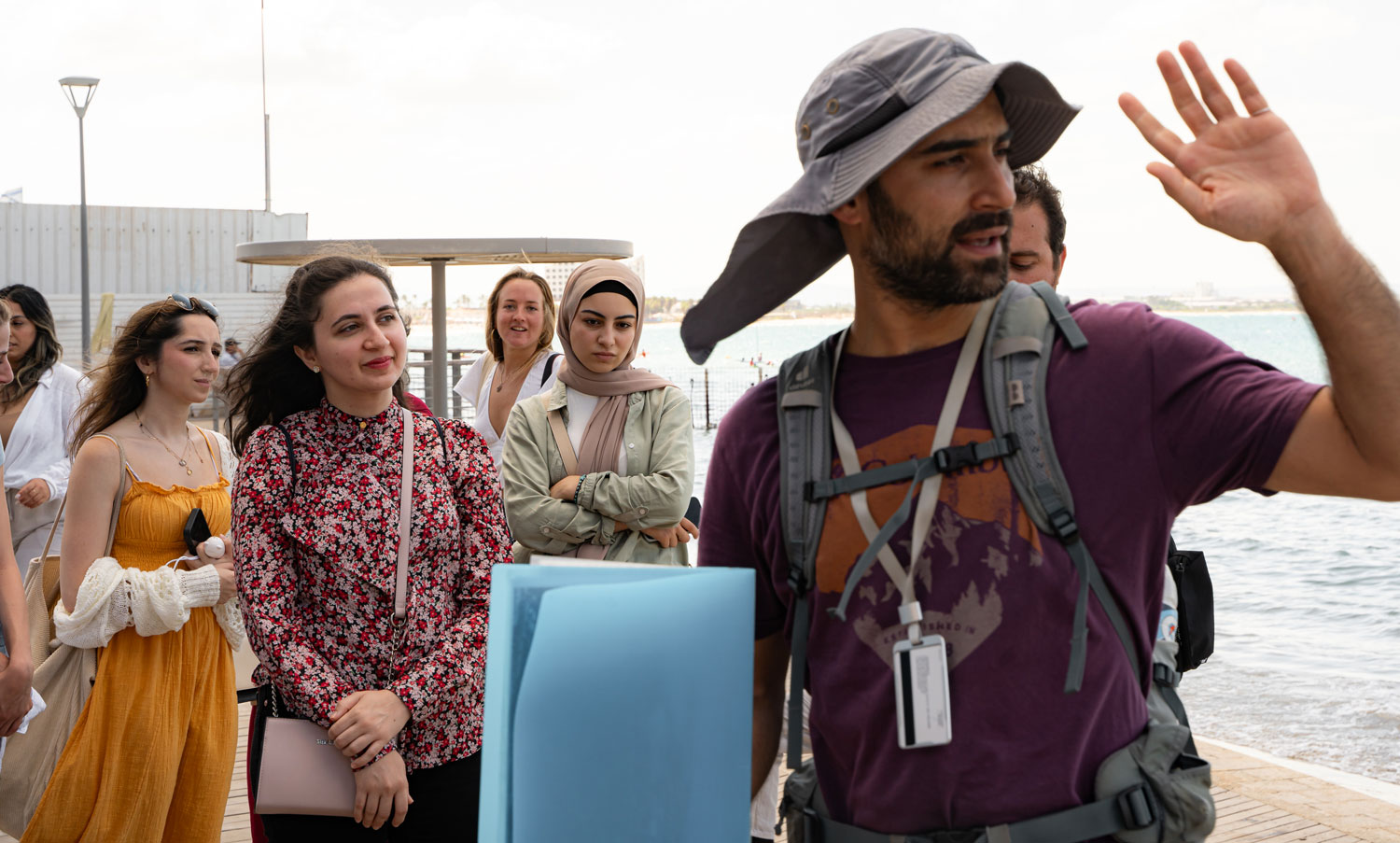 By Tarek I.
After ten days of traveling within the West Bank and doing conferences, it was finally time to cross into the 1948 areas.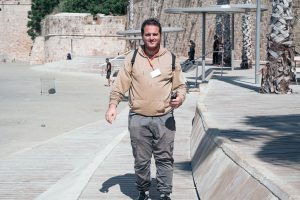 Everyone was naturally super excited to travel to 1948 Palestine as many of the delegates traveling originated from those areas, and each person had their own story to share from their grandparents of the Nakba.
We all woke up bright and early, around 5 a.m., to get ready to eat breakfast at our stay in City Palace Inn in Ramallah, gearing for an early start towards the bus, which would cross the green line and take us to Akka as the first destination.
Upon arriving at Akka around 10 a.m., a tour guide named Andrew showed us around the city.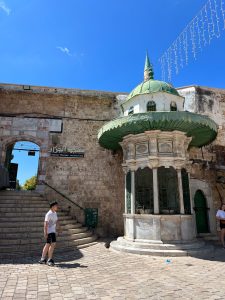 We were all excited, and the mood was upbeat from the street as this was our first stop at a coastal town. The tour guide himself was very energized and explained the city's history and how the walls were erected around it to protect it from outside attack. Included in the tour was a visit to an outdoor art exhibition by local artist Walid Ashash as well as a look at Al-Jazzar Mosque, which Al-Jazzar Pasha built during the Ottoman Period. After touring Akka for about two and a half hours, it was finally time for lunch. We all split up and went in groups to different locations depending on our lunch preferences. My group and I chose to get shawarma, a delicious sandwich consisting of meat and vegetables, at a place called Salam Shawarma. After exchanging U.S. dollars for Israeli currency, we ate our shawarma and sipped our cola drinks, taking in the vibrant scenery of the Old City of Akka and its inhabitants.
| | |
| --- | --- |
| | |
After finishing our lunch and spending some time in Akka, it was finally time to say goodbye to my hometown and our first destination in 1948 Palestine. We were all really excited to visit our next coastal city, Haifa.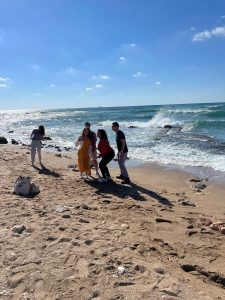 It took us about half an hour to arrive in Haifa city. Once there, our first stop was at the Arab Culture Association, where we met with a local group of leaders and academics. We discussed the challenges confronting the Palestinian community within the 1948 borders of the state and how the people who left after 1948 came to be marginalized and looked at with mistrust by both the Arab world and the state of Israel. After a lengthy discussion, they distributed some of their literary works for us to read, and then we took off for a tour of Haifa.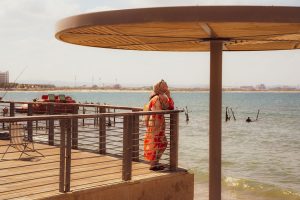 Our first stop was the beach, where Mustafa, the tour guide, told us how the area used to be a vibrant beach area in pre-1948 times until Israel raised it. The bus also took us on a tour of the German Colony, where we could view the beautiful Bahá'í Gardens from a distance.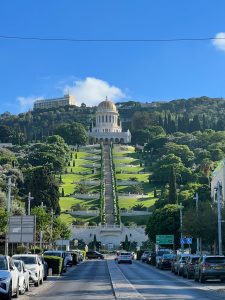 After a long day of touring across Akka and Haifa, it was finally time to call it a day and head to our hotel in Nazareth to chill and unwind. We landed in the hotel exhausted and had a delicious dinner consisting of various foods like fish, potatoes, spaghetti and fried chicken. Then, we prepared for our next day and adventure to come on our KTH trip.