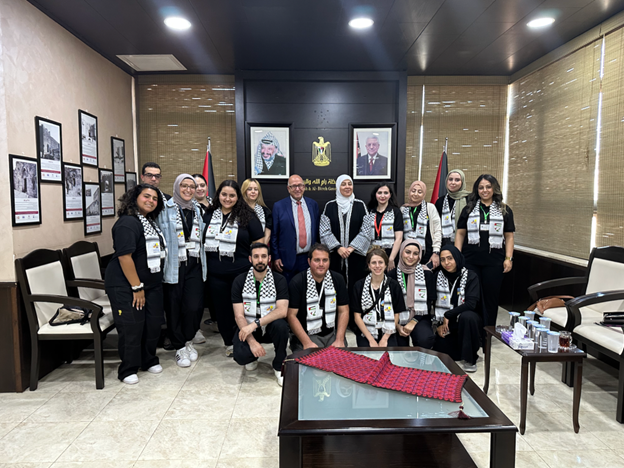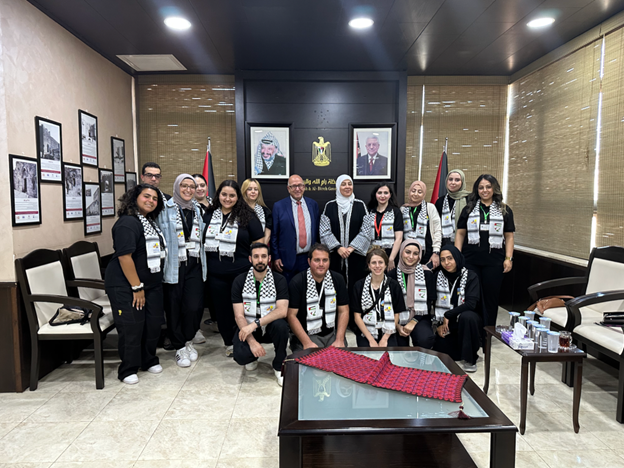 Know Thy Heritage Leadership Initiative Day 5: Planting Roots And The Political State of Palestine
By Ammar A.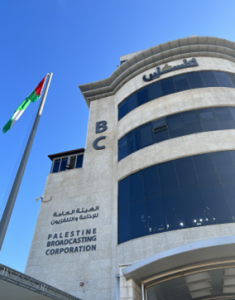 Day five saw the delegation focus its attention on Ramallah, the political and cultural capital of Palestine. Kicking off with an early 7 a.m. start, we were left suitably breathless by the end of the day, having earnestly engaged with a wide menagerie of activities ranging from the academic to the emotional.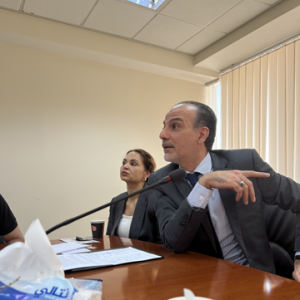 Our agenda began at the Palestinian Broadcasting Corporation with one of the famous staples of the KTH journey: performing the Palestinian national anthem on live television. After painstaking practice, it was immensely satisfying to see our performance come together, and though daunting, it filled us as members of the diaspora with pride to convey in song the spirit of Palestinian resilience and determination before a live audience. Hearing the touching words of Mr. Osama Nazzal—Palestinian Affairs Commentator—as he welcomed us to Palestine and eloquently summarized the challenges Palestinians face in their daily life, was an energizing start to the busy day.
Nowhere near done with the day's formal visits, we powered through an incredibly enlightening trio of invitations. First was The Ministry of Foreign Affairs, where we heard from Mr. Amal Jado, who gave an enriching account of Palestinian history and politics. Next, we visited Dr. Hanan Ashrawi, the former PA Minister of Higher Education and Research. She gave a more personal perspective on today's political situation in Occupied Palestine, speaking at length about the necessity and value of honesty and integrity in our behavior, inside and outside of politics. Finally, we heard from Dr. Laila Ghannam, the Governor of Ramallah, about the many challenges facing the city and its populace.
It was fascinating to hear three distinctly different perspectives: the political, the formerly political and the societal. We were left with many answers and many more questions, but we gained insight into the various angles to understand Palestinian society and politics.
Quickly recuperating over lunch, we moved on to the emotional experience of planting our own olive trees: a longstanding symbol of Palestinian steadfastness. Olive trees are a physical and emotional expression of deep Palestinian connection to land, their roots—much like our own—taking sustenance from its rich wealth. Often a target of settler violence, they have repeatedly suffered destruction, arson and theft at the hands of settlers, while Palestinians are arbitrarily barred access to their own trees during harvest season.
Exhausting as it was to toil in the scorching heat, it was a powerful and nourishing experience to plant the beginnings of new life in our ancestral homeland. Each delegate adorned their tree with a nametag, permanently impressing a statement of our presence as Palestinian Diaspora here upon our land.
Though our fatigued bodies were more than ready for sleep at this stage, we then moved on to our arguably most fun activity of the day—learning and performing Dabkeh in the Holy Land Ecumenical Foundation's new headquarters in Birzeit. While the coordination and rhythm of our moves left something to be desired, our spirited hearts shone through in performing traditional Palestinian dance.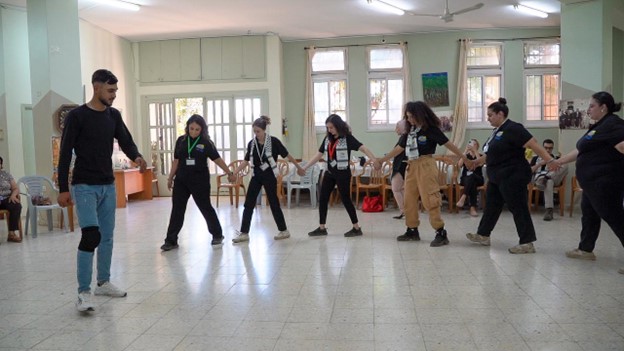 A few lucky delegates were privileged to tour Sir Rateb's office, the framed photos upon his wall serving as a window into fond memories of previous delegations and his meetings with important dignitaries and precious friends alike. While the first KTH trip took place over a decade, we could not help but see ourselves within the past delegates, reflecting how continuous our struggle for freedom has always been.
While most of the group engaged in the day's busy activities, a parallel journey unfolded itself as one of us fell ill and was subsequently taken to hospital in the company of two other delegates. Their challenging experience revealed the sorry state of Palestine's decaying public health system, suffering under the weight of the occupation with no adequate funding. It gave us a brief first-hand glimpse into the significant struggles of life in the Occupied West Bank, where quality medical care—a basic right—is afforded only to the affluent.
As the long day drew to a close, we reflected on its events and prepared ourselves for the incredibly exciting trip to Jerusalem that awaited us the next day. With an especially early morning ahead of us, we said our goodbyes and parted to allow our weary bodies some well-deserved rest.