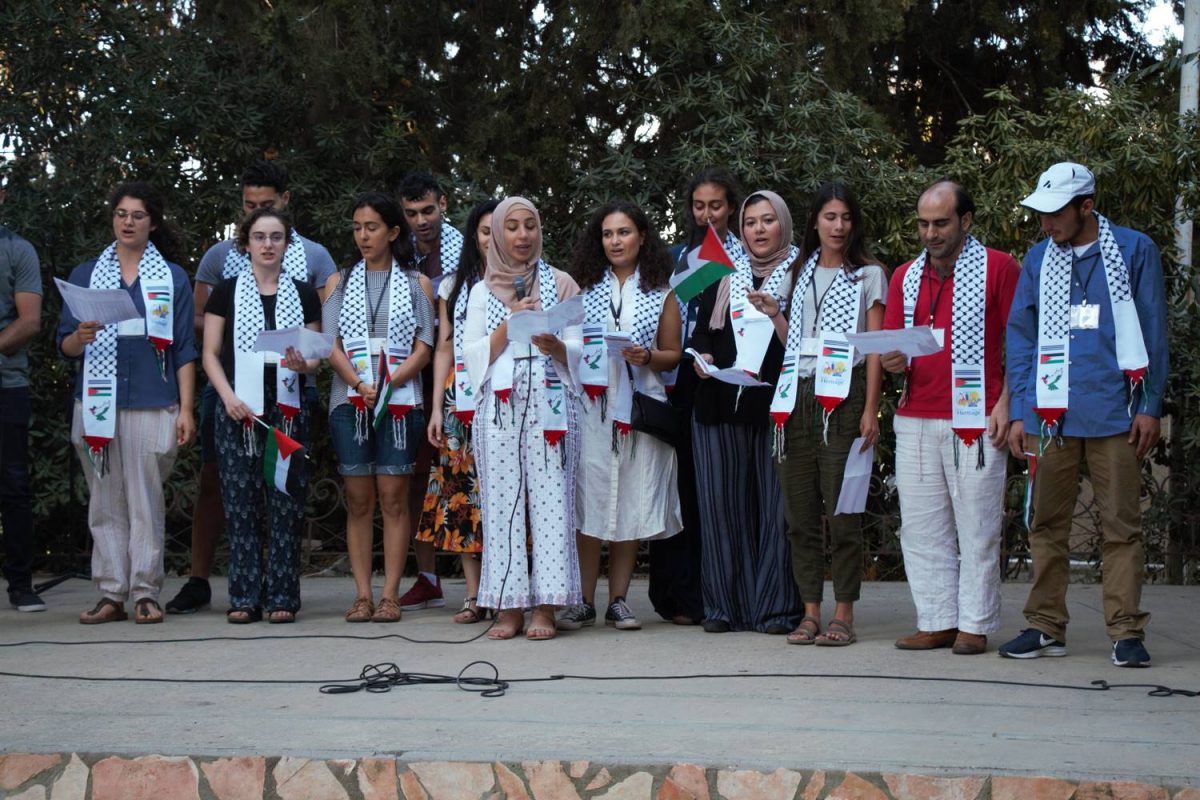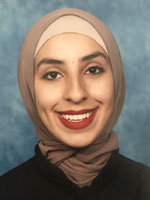 By Sumaia E., Australia | Saturday, July 7th, 2018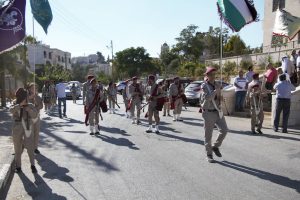 The 6:30am wake up call rang throughout the hotel rooms. The anticipated day had arrived… for today was unlike any other, it was the start of our journey to the Holy Land. Breakfast was buzzing with excitement and conversation, stories shared by our family of our homeland. We packed our bags and waved farewell to Amman.
The bus ride was not like the others, filled with nervous chatter and uncertainty. Practicing the rehearsed questioning and answers, we posed the possibility of not making it through the border. As we passed through the last Jordanian border we could almost hear the olive trees beckoning our arrival.
Nerves increased at the first sight of the Israeli flag. The sign read "foreigners" as we entered the waiting room. Outsiders in a country we grew up calling our own, yet the vibe of the room made us feel like we truly were passing through unknown territory.
The hours passed, the initial stresses turned to ease. It was not as hard as we had imagined. Yet we understood the 5 hours waiting on the border were luxurious compared to the Palestinian experiences, also unnecessary.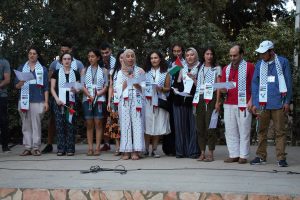 Name by name we were called. We waited to hear our own. Finally !! We passed. Nothing compared to the moment we crossed the border. A sense of relief overtook our emotions.
The first sight of our beloved homeland made the wait and stress worth it. Driving through the streets we chanted and sang Palestinian songs of happiness. DAMMI FALASTINI boomed from our stereo.
As we entered the Birzeit town center a parade awaited us, with songs and bagpipes. We sat as we were entertained and embraced with love and welcoming arms. The newly elected Mayor Hanan Imseh welcomed us to the town. The sound of the church bells rang through out the town, for it truly was a celebration. The people of Birzeit showed true Palestinian hospitality… We were home.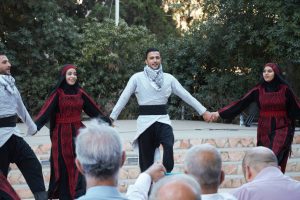 The town's dabkeh team put on a wonderful show exhibiting our national treasure – the dabkeh. Soon enough we joined in the celebration, two left feet and all.
The wonderful sounds of the Town band and vocalists made us realize, that even under an occupied state, the Palestinian people always embraced their culture, their identity.
We now made our way to the guest house we will be calling home for the next 10 days. The day was filled with such emotions and joy, we felt so happy and welcomed by the people of Birzeit.
Despite the language barriers, we managed to share so much with the people of this town. Day one was a taste of what was to come. A journey of knowledge, culture and self exploration.