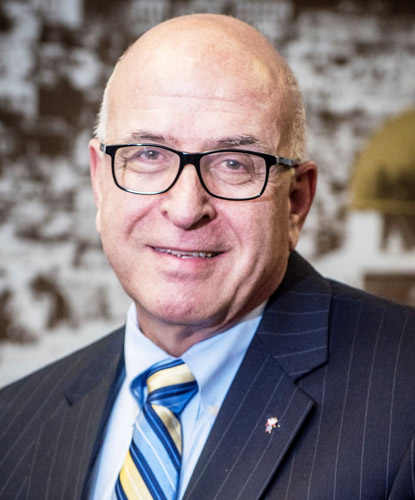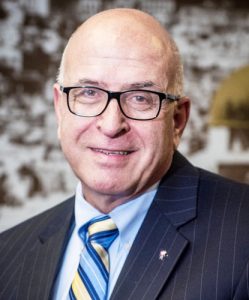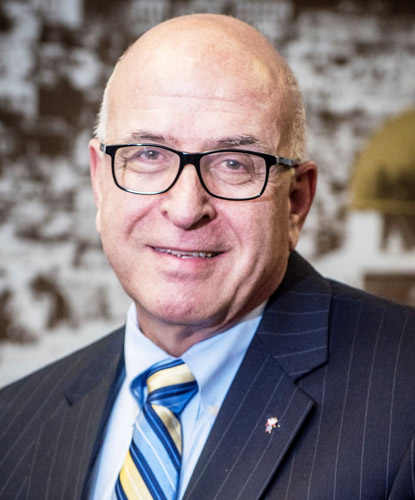 Rateb Y. Rabie, KCHS, the Founder, President & CEO of the Holy Land Christian Ecumenical Foundation (HCEF), was born in Amman, Jordan to Palestinian parents.
He came to the United States in 1976 to further pursue his education. From 1981 to 1986, he was Director of Operations for British/Saudi corporation Saudi Support Services, Ltd. He later moved to Jordan, where he worked for his own company, Reem Support Services. In 1989, he moved to Washington, D.C. where he worked for Marriott Corp. and founded, managed and owned several businesses (Image Printing & Publishing, Inc. and Vison Management & Consulting, Inc.) Sir Rabie is co-founder and past national president of the Birzeit Society and co-founder, Vice President and Treasurer of the Institute for Health, Development and Research in Palestine. He is also a Knight Commander of the Equestrian Order of Holy Sepulchre and a 4th Degree Knight of Columbus, founder and co-chair of the Holy Land Outreach Committee of the Knights of Columbus, Maryland State Council.
In 1998, he founded the Holy Land Christian Ecumenical Foundation (HCEF), with other Americans and Palestinians concerned about the presence of the Arab and Palestinian Christians in the Holy Land. HCEF is charitable 501(c)(3) faith-based development organization with over 20 programs and offices in Bethlehem and the Washington, DC area. In 2007, The Arab American Anti-Discrimination Committee (ADC) selected Sir Rateb Rabie to receive the Faith and Tolerance Award. This award is given to individuals working with faith-based organizations to encourage cooperation and peacemaking in the Middle East.
Sir Rateb is committed to improving living conditions for Palestinians Christians in their homeland, preserving Palestine's Christian heritage and strengthening the identity of Palestinian Christians in the worldwide diaspora. He pursues this mission under the motto "Let us work together to replace despair with hope, fear with human security and humiliation with dignity". Sir Rateb advocates for peace and justice in Palestine.
Sir Rateb is married to his wife of 34 years Rocio, who he met in the United States. Together they have four grown daughters, whom they raised both in the Middle East and in America. They are also the proud grandparents of two young boys and are active longtime parishioners at the Shrine of the St. Jude in Rockville, Maryland.