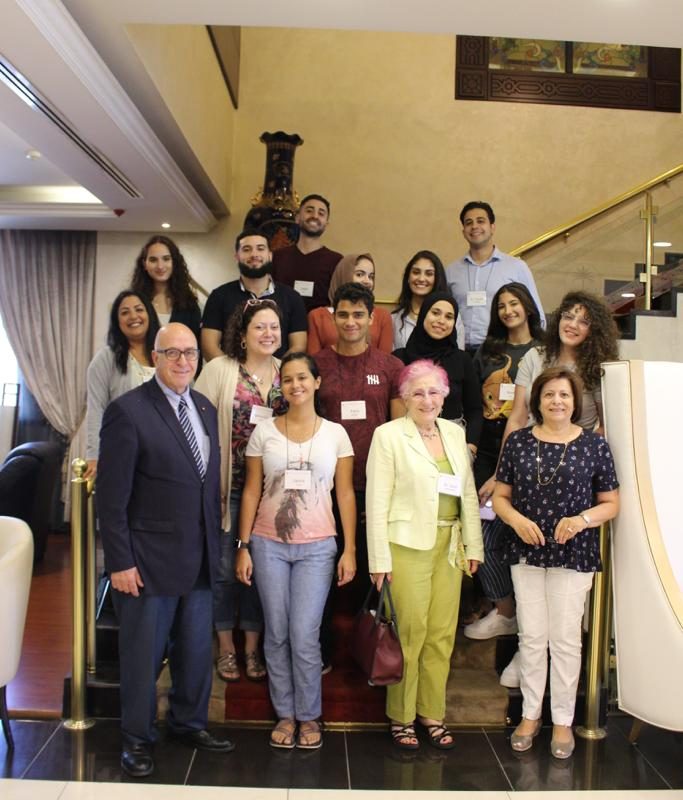 By Bernardita Y. and Sam O.
The Know Thy Heritage Delegates arrived Thursday July 11 in Amman, Jordan. We gathered together for dinner to meet each other as well as some alumni from previous years. It has been so exciting to see and meet other Palestinians living all across the globe, from England to Australia, Panama to Chile, and the USA. It was great to hear from Mohammed, an alumni from the 2015 KTH trip, who is now teaching at Florida International University in Miami and brought along some students for a study abroad experience here as well. It was a wonderful evening all around!
After a brief check in at the end of the evening, we were ready to get some sleep before we started our orientation in the morning.
We knew that morning was going to be one of loading up on information about our journey ahead. Making this easier to ingest was our first breakfast as a team. A spread of typical middle eastern breakfast foods is always a great way to start the day!
Mr. Rateb Rabie, KTH President/CEO kicked off the talk with his style of joyful banter served alongside sobering facts. Joining the talk was Dr. Assad Abdul Rahman, Chairman of the Palestine International Institute, who uplifted the crew with lessons of history, both Palestinian and of overcoming occupation in other parts of the world, despite all odds stacked against those oppressed. His elegance in speech and extensive knowledge made for an enticing listen.
We were all reminded that we must never lose our Palestinian-ism and have absolute respect for all people's, regardless of one's faith. This notion was ingrained further by a night of EPIC handmade, traditional Palestinian dishes, dabkhe dancing, and heart-warming hospitality. The ladies who prepared the feast as well as the community from Al Hanouneh ensured we were more than comfortable and all the more excited for our venture into Palestine the next morning!