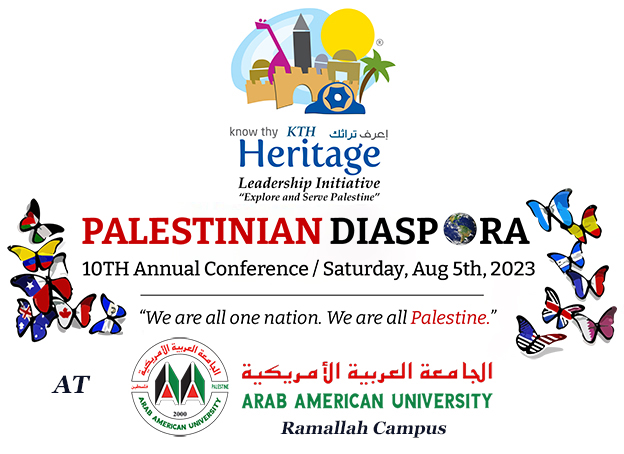 Under the auspices of Palestinian Prime Minister and Keynote Speaker
H.E. Dr. Mohammad Shtayyeh
In Partnership with
Dr. Kamal Al-Husseini

Dr. Al-Husseini, founder and CEO of Lady of The Earth and Director General of Siam Herbal and Physical Therapy centers, also formed the Al-Husseini Youth Association in 1995. A reputable Herbalist with extensive expertise in leadership training, he has received global and local recognition for his contributions. Since 2008 he has been working diligently to portray a dignified image of the Palestinian struggle and promoting Lady of the Earth worldwide. He's the author of multiple books, the latest being "The Secret of Youth".

H.E. William Shomali, Jerusalem; General Vicar and Patriarchal Vicar for Jerusalem and Palestine.

Father Shomali, born in Beit Sahour (Palestine) in 1950, is a priest with a distinguished career. He was ordained in 1972 and spent eight years serving in Jordan. Later, he pursued higher education and obtained a degree in English Literature. Subsequently, he held various positions including Professor at the Major Seminary in Beit Jala and Director of the Minor Seminary.

Between 1985 and 1989, Father Shomali studied Liturgy at St. Anselm in Rome. After completing his doctoral thesis, he took on various roles within the Seminary, including Professor of Liturgy, Vice Rector, and Prefect of Studies. Additionally, he has authored a book of hymns that are widely used in Catholic parishes. Father Shomali has also held several leadership positions throughout his career, such as serving as the General Administrator of the Latin Patriarchate in Jerusalem, Rector of the Seminary in Beit Jala, Chancellor, and Auxiliary.

Dr. Amir Khalil

Dr. Amir Amir Khalil is an Associate Professor of Law at Birzeit University and the Director of the External Academic Relations and Grants and Contracts Offices. He's also a Research Fellow at the Centre of Private and Economic Law at Vrije Universiteit Brussel, Belgium. Khalil's academic journey spans numerous institutions and degrees.

Khalil specializes in areas including civil and commercial law, international commercial arbitration, and international commercial contracts. He is a frequent conference attendee on both local and international stages

His Ph.D. in Law, Master's EU International Relations and Diplomacy Studies, and an LLM Master's in International and European Law were all earned from Belgian institutions. He earned Bachelor's in Law from the Arab American University, Palestine.

Fadi Arafat Al-Hidmi – Minister of Jerusalem Affairs.

Born on November 4, 1977 in Jerusalem, He is a Palestinian politician and economist who has been serving as the Minister of Jerusalem Affairs within the government of Dr. Mohammad Shtayyeh since April 2019. Previously, he served as the Director-General of the Jerusalem Chamber of Commerce and Industry.
Al-Hidmi holds a Bachelor's degree in Business Administration from the American University in Cairo, and a Master's degree in Management and Implementation of Development Projects from the University of Manchester Institute of Science and Technology in the United Kingdom.
He was an active member of many social and voluntary committees in Jerusalem including the Islamic Higher Committee, Al Hilal Club, and the Education for Employment Foundation(EFE).
Al-Hidmi worked as a grants manager and a capacity building specialist in USAID-funded programs implemented by Catholic Relief Services (CRS) and Chemonics. He also managed programs in the World Bank project for Palestinian NGOs as part of the Welfare Association team. In addition, Al-Hidmi worked as a Program Analyst of the Civil Society Program implemented by the United Nations Development Program (UNDP).

Mohammad H. Ghosheh, Ph.D.

Mohammad H. Ghosheh, Ph.D., is a renowned expert in the field of Islamic architecture and the history of Jerusalem. He currently serves as the Director of the Al-Hasan Center for Jerusalem Studies, where he leads research and academic initiatives focused on the rich cultural heritage of Jerusalem.

Dr. Ghosheh has received numerous prestigious accolades throughout his career, highlighting his significant contributions to academia. In 2020, he was honored with the King Faisal International Prize, recognizing his exceptional work in the field of Islamic architecture. In 2019, he received the Sorbonne University Accolade for his outstanding research and scholarly achievements. Additionally, in 2006, he was awarded the Abdul Majid International Prize for Jerusalem, further solidifying his expertise in this area. He was also the recipient of the International Prize of Islamic Capitals and Cities Organization in 1993 and of the First Certificate of Historical Research from Kuwait in 1988.

Dr. Ghosheh has authored 40 books on various topics including Jerusalem, Palestine, and Islamic civilization. Notably, he is the author of the Encyclopaedia Palestinnica, a comprehensive 24-volume reference work that delves into the history and culture of Palestine.

Dr. Nahed Habiballah

Dr. Nahed Habiballah, the Director of the Policy and Conflict Resolution Studies Center (PCRSC) at the Arab American University in Palestine (AAUP), is an academic expert with a particular focus on Sociology of Religion, Cultural Sociology, and Political Sociology. She received her PhD from the New School for Social Research in New York, and two Master's degrees from the University of Malta and Eastern Michigan University. Her research is primarily on Middle East studies, particularly Jerusalem, and she has a number of published articles to her credit.

Raed Saadeh

Raed Saadeh is an activist and advocate of community-based tourism and cultural heritage preservation in Palestine. He is the former president of the Arab (Palestinian) hotel association. He is co-founder and Chairman of the Rozana Association for architectural heritage conservation and rural tourism development based in Birzeit. Saadeh is also Owner and General Manager of the Jerusalem Hotel, Jerusalem, a heritage hotel for which he introduced the concept and did the design. Originally trained as a mechanical engineer, with a Bsc. from Syracuse University and MSc. from Case Western Reserve University, he is also co-founder and board member of the Palestinian Art Court; board member of Al Ma'mal Foundation for Contemporary Art; Chair of Sunbula, a Jerusalem-based non-profit fair trade organization; and co-founder and ex-President of Yabous Productions for performing arts. He is one of the main leaders and co-founders of the Network for Experiential Palestinian Tourism Organizations as well as a co-founder and chair of the Palestinian Heritage Trail. His current efforts are focused on developing the concept of an Alquds/Jerusalem tourism board intended to maximize the economic returns and benefits for Alquds local community.

Mr. Ala Alaeddin

Mr. Ala Alaeddin serves as the vice chairperson and a key founder of the Palestine India Technopark (PTT), a national science and technology park established in 2016. He also aided in setting up several institutions, including the Palestine IT Associations (PITA), the Palestinian National Naming Authority (PNINA), and Palestine ICT Incubator (PICTI). With a rich experience of over 25 years in IT management, strategic planning, business development, and technology innovation, he founded InterTech in 1999, which has grown into one of Palestine's largest IT development organizations. Between 2007 and 2011, Mr. Alaeddin severed as the Chairman of the Board for PITA and the Palestine ICT Incubator (PICTI).

Prior to his current roles, he earned a Bachelor's Degree in Computer Engineering and a Master's Degree in Computer Science from New Jersey Institute of Technology.

Dr. Walaa Battat

Dr. Walaa Battat, an esteemed writer, academician, and researcher, specializes in media and children's issues. She initiated her career as a program presenter for Palestine TV, later establishing the Educational Children's Program division. She is also founded a children's theater and produced numerous TV programs for kids, aiding thousands of Palestinian talents and promoting national and educational awareness.

She has furthered this cause by producing political shows spotlighting Israeli violations of child rights, work that has garnered multiple global accolades. Her research and studies emphasize child rights and the crucial role of media under the severe circumstances endured by Palestinian children.

Her recent book, "Satellite Channels Between Misleading and Influence," chronicles crimes against children during the occupation. Dr. Battat holds a PhD in Philosophy of Media Studies and Children's Culture.

H.E. Ambassador Hind Khoury, Jerusalem
Palestinian Diplomat

H.E. Ambassador Hind Khoury (retired) served as the Secretary General of Kairos Palestine. An economist, she worked in development of the occupied Palestinian territories with USAID, UNDP, UNFPA, the Bethlehem 2000 Project, the Multi-sector Review of East Jerusalem of East Jerusalem Project, NORAD, and UNESCO. She was Minister of Jerusalem Affairs for the Palestinian National Authority and the Palestinian ambassador to France from 2006 to 2010. Ambassador Khoury also served as board member of Sabeel-Jerusalem and is currently on the board of Bethlehem Bible College. Other present-day roles are president of the Arab Research Institute in Jerusalem and president of the Bethlehem Rotary Club.

Hiba Awaysa

She plays a strategic marketing planning role at Paltel – A leading landline telecom operator in Palestine-, where she gained the experience and skills in data and business analysis, marketing, strategic planning and management.

Beside her current job, Hiba experienced over 15 years of volunteering in different exposures that drove her to establish Sawaed19 in 2021: A social tech-startup that changes the way we manage volunteering to make the journey a joyful and impactful one. Sawaed19 is a LinkedIn-Like platform specialized in volunteering. It brings the key players in the volunteerism ecosystem in one digital space to manage the full cycle of volunteering from sourcing for volunteers to smart matching, project management, evaluation, reporting and interestingly, gamification.

Her voluntary work varies between the field social services such as establishing Hajar o Hekeya (Stone and Story) Initiative in 2019 which focuses on preserving and reviving the Palestinian heritage and historical monuments, volunteered as a professional trainer with Injaz Palestine towards building students capacity in Entrepreneurship, and supportive level as she is a board member and advisor in several local nonprofits.

Hiba values the support system where people can share experience and knowledge and support each other towards making the world better.

Mr. Rami Nasser Eddin

Rami Nasser Eddin is a passionate leader with over 25 years-experience in managing and leading the youth NGO PalVision, which he co-founded in 1998. As Executive Director, he has nurtured the organization from small beginnings to become one of Palestine's leading NGOs. He has spent several years working in private industry and supporting other organizations to grow and develop. His achievements include founding three organizations which are now operating as independent NGOs: an organization to support young entrepreneurs (Station J), an independent media hub (YPlus) and a disability advocacy organization (Behmitkom). Rami is always looking for new approaches and innovative techniques which he applies to his leadership of PalVision and the other NGOs he supports.

Salemi Khori

Salemi Khori is a 2023 KTH Delegate Future Business Leaders Team Leader. She currently works as a Senior Supply Chain Manager at Target corporation Salemi holds both a bachelor's and a master's degree in marketing. She is from Rafidia, Palestine and currently resides in Minnesota, USA.

Reem Eldabagh

Reem Eldabagh is the 2023 KTH Delegate Group Leader. She is a professor and scientist. She has a master's degree in Materials Chemistry, a dual bachelor's degree in Biology and Chemistry, and a French Minor. She is from Gaza and Jerusalem, Palestine and currently resides in New Jersey, USA.

Ammar Abu Shamleh

Ammar Abu Shamleh is a 2023 KTH Delegate Team Leader. He is a software engineer working on healthcare applications, with master's and bachelor's degrees in software engineering. His ancestry is predominantly from Jenin, Palestine, and he currently resides in Perth, Australia.

Dr. Noor Hassan

Noor Hassan is the 2023 KTH Delegate Health Leader. She is also the Photography and Videography Leader. She is a pharmacist, board-certified Doctor of Pharmacy (PharmD), and practices as a clinical pharmacist in the intensive care unit. She is from Al-Barriyeh, Palestine and currently resides in Ohio, USA.

Melissa Taha

Melissa Taha is a 2023 KTH Delegate Team Leader. She is a chemical engineer and entrepreneur. She is a real estate agent. She has a master's degree in chemical engineering and a bachelor's degree in biochemistry. Her family is from Yafa, Palestine and she currently resides in California, USA.

Rami AlGhussein

Rami AlGhussein is a 2023 KTH Delegate Conference Coordinator. He is a data analyst working in the robotics industry. He holds a bachelor's degree in information systems and is pursuing a master's degree in data science. His family roots trace back to Ramle and Lydda in Palestine and he currently resides in Massachusetts, USA.