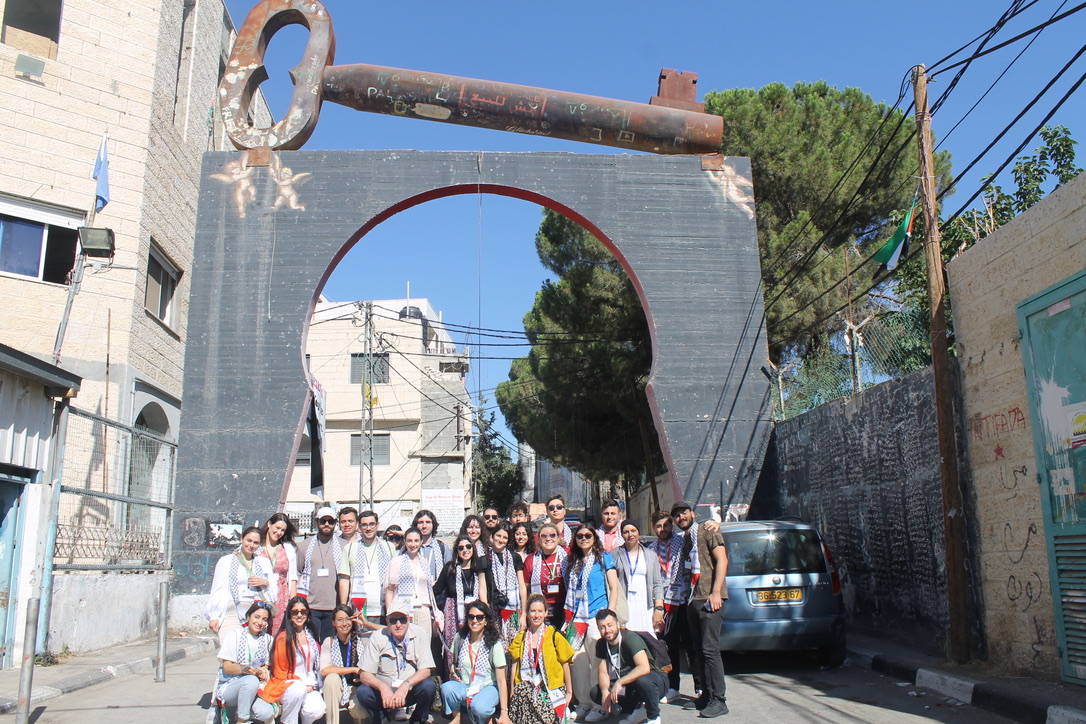 Day 7 – Walking in the Steps of my Ancestors
By: Monique H. and Maricel S.
Finally, the day has come, the day to set foot in the city of my ancestors: Bethlehem. My great-great-grandfather left for Central America in 1906, and 5 generations later, I'm going back to our homeland.
Bethlehem is the birthplace of Jesus Christ— a place of great significance to Christians worldwide. Unfortunately, Bethlehem is also the location of the Apartheid Wall and many refugee camps, like Aida Refugee Camp – a camp that started with 400 Palestinian refugees and is now home to more than 5,000 Palestinians from 27 villages burnt down in Historical Palestine by the Zionists.
We were given an educational tour of the camp and learned about the martyrs through the artwork on the walls, which many use as a form of expression and reminder of their martyrs. From the camp, we saw the Apartheid Wall, the wall that divides Bethlehem and serves as a constant reminder of the occupation. We got the opportunity to spray paint the apartheid wall, which felt liberating to express our feelings through art. We wrote messages like "Only Love," "Free Palestine," and our family names on the wall, an homage to our families that were forced out in 1948 and showing the world that we are here, the diaspora has come back, and we will fight for the Palestinians here and abroad. They are not forgotten.
After visiting Aida Camp, we arrived at Bethlehem University, where we had the privilege of meeting Mrs. Claudette Habesch, former Secretary General of CARITAS, Archbishop Attalah Hanna, Fr. Firas Abedrabbo, and Imam Maher Assaf. It was so special to have them all in one room where they talked to us about how Palestine is a model for coexistence between Muslims and Christians and linked it back to our Palestinian identity. The Archbishop quoted a beautiful saying by Pope Francis: "Peace doesn't require walls but bridges." We all left the meeting with lifted spirits and a hopeful outlook.
We then visited the Basilica of the Nativity, where Jesus Christ was born, it was a surreal moment as a Catholic. We were so happy to be there and see with our own eyes this historic and holy place. The group mentioned how special Palestine was to have so many religious landmarks.
Our visit to Bethlehem was a very emotional experience for the group; we walked around with heavy hearts and teary eyes and left feeling disheartened, empathetic, and empowered to help our fellow Palestinians.
That night, we went to bed feeling so blessed to have visited Bethlehem in all its glory and sadness with our own eyes.